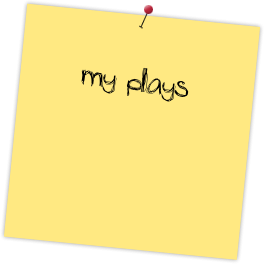 I've been writing plays for the stage since 1982. I began learning my craft and art whilst reading Theatre Studies at the University of Lancaster under the guidance and support of course leaders, Professor Keith Sturgess and Margaret Eddershaw who have since become lifelong friends.
This page provides a snapshot of my highlights with links to individual pages which provide more information.
ONCE BITTEN....new for April 2017, a tragic-comedic 7 minute monologue as part of Monorogue Productions "Wheel Of Misfortune" at The Old Red Lion, London.
TRAILER/trash - Arts Council funded to R&D stage after many years of private development. Two misfits find love and acceptance in an otherwise hostile world, National tour planned for 2018 - more to follow.
THE STAIRS - short comedic monologue as part of Monorogue Productions Halloween special, "Into The Darkness".
PERU - an epic, surreal modern day trilogy (in development) set in Peru, Illinois, where "normal" defies all conventions.
DEAD - a re-imagining of Ibsen's "When We Dead Awaken" presented at the Edinburgh Fringe Festival.
QUEEN WITH ROTTING TEETH - information to be updated soon.
BREAD 'N' BUTTER GUNS - Fringe First and NSDF award winning play set during the height of The Troubles in Northern Ireland.